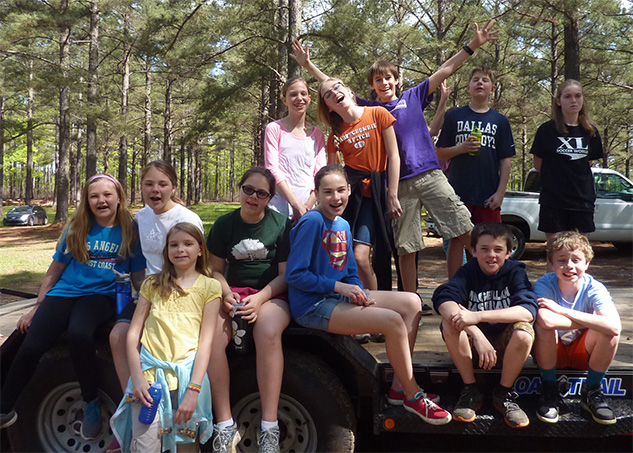 The mission of Church of the Nativity's Youth Program is to provide an environment for teens to encounter the transformative power of Jesus Christ through community, worship, prayer, and service.
Youth Sunday School
Church of the Nativity youth meet in the Education Building at 10:15 am on Sunday starting in September and ending in May. During Sunday School, each group enjoys feasts, fun, fellowship, Bible studies, and outreach. Parents, please print and complete the Youth Covenant and Guidelines and Youth Registration Media Medical Release and send with your youth to class.
For the 2015-2016 school year, our youth are in the following classes:
Fixers– grades: 5th & 6th. Each week, our Fixers Class meets to explore the journey through the Old Testament and into the New Testament through Sparkhouse's Connect Curriculum.  The focus of this programming is to meet the tweens where they are through utilization of technology, language, and active learning concepts that match their 21st-century lifestyles. Each week, our leaders strive to make creativity, collaboration, and even humor synonymous with through-provoking, Bible-based learning.
Rite-13– grades: 7 th and 8th. Our middle school youth program celebrates the individuality of each young teen and their creative potential, while exploring Biblical stories of God and God's people. The Rite-13 Liturgy is designed to welcome our middle school youth on their first steps in the journey of becoming adults. Also known as the Celebration of Manhood and Womanhood, it is the community expression of this and serves as a rite of passage from childhood towards adulthood. The ceremony is held once in the fall and once in the spring of each year. Each child will be a celebrity at the ceremony closest to their 13th birthday.
High CotN– grades: 9th— 12th What better way to provide an all-encompassing curriculum than to let the youth participating in the class provide their input along with the leaders to plan the topics, discussions, activities, and outreach? An open exchange of ideas, concerns, and joys are encouraged in this small group setting. This new series of six to seven major topics will allow the youth to discover how God gives foundational answers to questions such as "Who am I?", "Does love always win?", and "What, too much?"
Confirmation
The sacrament of Confirmation, in which the candidates express a mature commitment to Christ, and receive strength from the Holy Spirt through prayer and the laying on of hands by a bishop (BCP, p. 860), affirms the promises made on the youths' behalf at their Baptism. The Confirmation program is lead in unison with I Will, with God's Help by Mary Lee Wile.  Classes are held at the discretion of the Rector.
Youth Group
All youth grades 5-12 are invited to attend this time together for the 3fs: faith, food, and fun. The mission of the Youth Group, as written by the youth, is: "We are here to have fun with friends, and to be closer to God through fellowship." Youth share supper and often separate into middle and high school groups for the evenings' events. Usually held the 2nd and 4th Sundays of the month from 5 to 7 pm. Outreaching, activities, and other adventures are also added in! Check the calendar for dates and details.
Youth Travel
What's a youth program without a little outside adventure? Our youth enjoy traveling for faith formation, to serve others, to explore new places, and just for fun. Each Sunday School class plans outreach, outings, feasts, and adventures in the community. Youth Group also plans outings for outreach, fun, and to seek God in known and unknown places. Each youth attending must have a Liability Form and Contact Form on file.
Nativity youth participate in Diocesan-planned weekends and also schedule team building and retreat travels as well.
For further information, please contact our Youth Minister, Kathryn Buckley  kb@nativityonline.org or 919-946-6693.
Upcoming Youth Events
,
For Your Viewing Pleasure
2014 Youth Sunday Seniors Speak Video 
Check out this video of some Nativity's class of 2014 sharing their experience of Nativity.
Pilgrimage to Costa Rica, June 2014
See some of the amazing people and places experienced by Nativity's Pilgrims in June 2014.
Urban Adventure to Baltimore, June 2014
Explore the Charm City with Nativity Youth during their June 2014 travels.