Check out Nativity's Youth Program Website for more details.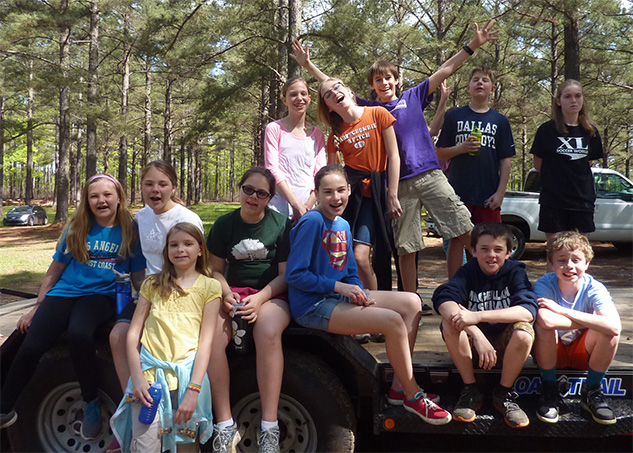 The mission of Church of the Nativity's Youth Program is to provide an environment for teens to encounter the transformative power of Jesus Christ through community, worship, prayer, and service.
Parents, please print and complete the Covenant and Registration and Release and send with your youth to class.
ROOTED
Let your roots grow down into him, and let your lives be built on him. Then your faith will grow strong in the truth you were taught, and you will overflow with thankfulness. Colossians 2:7 
Rooted is our weekly Sunday School program for the youth in fifth through twelfth grades, meeting from 10:15-11am in the Education Building. Classes are broken up into age brackets by school grade and will start their first year as Fixers in fifth and sixth grade and continue to move through the program together in their cohorts. Once the entire class reaches high school, they will transition into the collective high school classed called C27.  All our classes are lectionary-based and incorporate youth led discussions, outings, service projects, outreach, and meaningful activities. This is a great way for youth to engage with each other through Christ in a friendly environment.
YOUTH GROUP
Youth group meets twice a month in the Youth Room of the Education Building and starts with Holy Chow provided by parent volunteers. Afterwards, they dive into a night of games, activities, and discussions unraveling Bible stories, lessons, and virtues in fun and goofy ways. Youth group is a wonderful opportunity for our youth and their friends to come together in fellowship and enjoy some time in Christ. This is a time when they are able to explore their faith in ways that speak to them – through competitions, laughing, and hands-on games.
GRUB GROUP
This is our monthly dinner gathering at local restaurants around Raleigh where the youth start learning to come together in faith outside of the church. We enjoy dinners, talk about what's going on in their lives, and have a short Bible study. We encourage outward faith and finding a happy medium to display that faith in public while being respectful of others and their practices.
EAT, PRAY, STUDY
This provides the youth a place outside of school and home where they can study in a quiet and friendly atmosphere. Youth study for a few hours with intermittent fun breaks followed by dinner and evening prayer. Even if youth don't have homework, projects, or assignments to work on, they are welcome to come and be in a quiet relaxing environment to enjoy some down time among friends!
SENIOR LUNCH
This is our way of getting just our soon-to-be graduates together for time to talk about what's next, where they are headed, and how their faith is going to play a role in their journey ahead. These meetings are once a month following church.
DIOCESAN EVENTS
The Diocese provides opportunities for young people (grades six to twelve) to come together in a Christian environment in fellowship with other youth to grow in spiritual formation and develop leadership within the church. These events are a community that empowers young people to develop their leadership skills and grow in their faith and relationship with God, a community that provides opportunities for transformation not only within themselves but also of the environment around them. These include Happening for high school students, Genesis for middle school students, and Bishops' Ball for middle and high school youth.
Confirmation
The sacrament of Confirmation, in which the candidates express a mature commitment to Christ, and receive strength from the Holy Spirt through prayer and the laying on of hands by a bishop (BCP, p. 860), affirms the promises made on the youths' behalf at their Baptism. The Confirmation program is lead in unison with I Will, with God's Help by Mary Lee Wile.  Classes are held at the discretion of the Rector.
All events above are posted in the Google calendar below.
To all of our events both on and off campus, youth are always welcome to bring a friend. Just let Kathryn know and make sure the friend fills out our CoTN Friend Release.
For further information, please contact our Youth Minister, Kathryn Buckley  kb@nativityonline.org or 919-946-6693.
Let Kathryn know if you are not on the email list.
Upcoming Youth Events
,