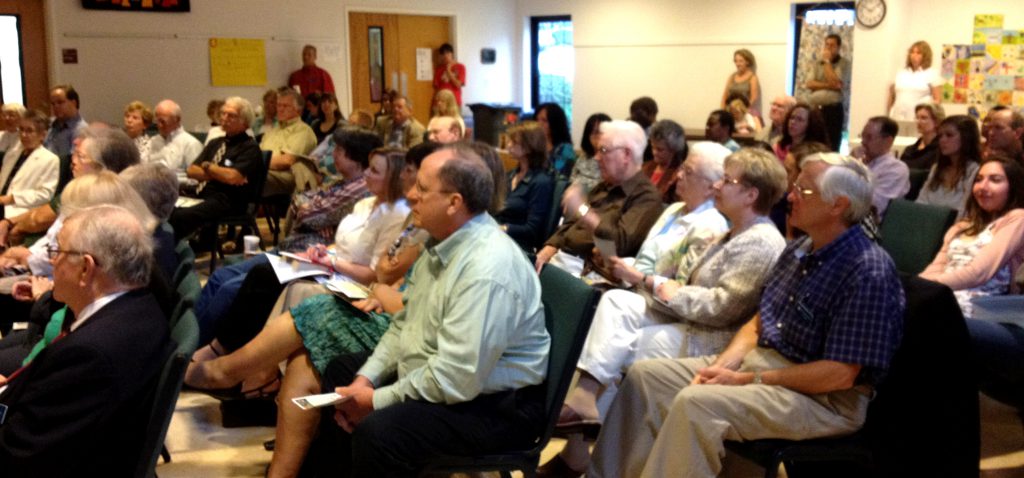 Whether you're new to the Christian faith, someone returning to church after a time away, a Christian educated in another tradition, or a life-long Episcopalian, Church of the Nativity aims to meet your needs for education and spiritual formation.
The variety of educational programs offered is broad, ranging from lectures and group study of books about social, political and religious issues, to films, arts and Outreach presentations. Discussion can be lively and we seek to raise questions, rather than provide pat answers.  We tap the cultural and intellectual diversity of the Triangle by inviting guest speakers and we have received national grants to hold forums about the intersections of faith and science.  Although much of adult education is offered on Sunday mornings, there are small groups, book groups, and other special offerings at other times as well.
The goal of all of these efforts is  to inform us about programs and issues important to our understanding of the Christian life.
Upcoming Adult Formation Programs
Sunday mornings:
10:15 am — Reflections on the Lectionary Readings, meets in the parlor. Join us for a discussion of Sunday's scripture readings using the bulletin reflection questions.
9 and 10:15 am — Reading Biblical Literature: from Genesis to Revelations. Not a traditional Bible study course but an exciting and dramatic presentation of the Old and New Testaments.
Week 26  Luke on a World Upside Down
Week 27  John on the Word Made Flesh
Week 28   Self-giving Love According to John
Week 29   The Early Church in Acts
Week 30   Paul's Calling
Week 31   Paul and the Roman Empire
10:15 am — A Life of Grace for the Whole World: A Study Course on the  House of Bishops' Pastoral Teaching on the Environment — through Sunday, May 21, in the conference room of Estill House, presented by the Environmental Stewardship Committee. This curriculum was developed as a direct response to the Episcopal House of Bishops' call "to acknowledge the urgency of the planetary crisis in which we find ourselves." Led by Jerry Cappel and Stephanie Johnson.
Blue Candle Bible Study
Mondays, 7-9 pm; on the first Monday of the month, begins at 6 pm
Blue Candle meets each Monday from 7-9 pm at the home of Jane Vella. On the first Monday of each month, participants gather at 6 pm for supper before beginning their study.
We also offer Education for Ministry (EfM), the premier adult education program in the Episcopal Church. EfM is a four-year theological education program of the School of Theology of the University of the South in Sewanee, Tennessee. Participants commit one year at a time to meet regularly in seminars led by trained mentors. During the four years, participants study the Bible (Old and New Testaments), church history, and theology, while learning to engage in theological reflection.