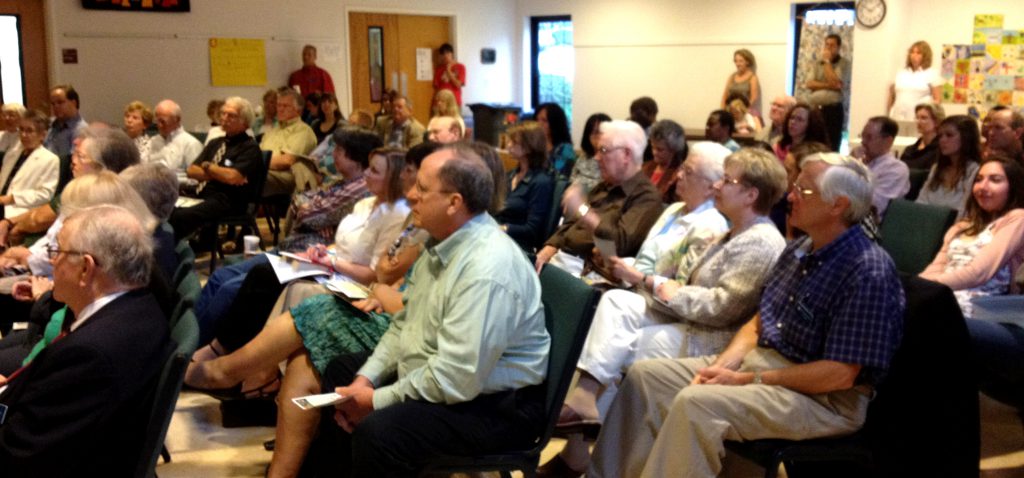 Whether you're new to the Christian faith, someone returning to church after a time away, a Christian educated in another tradition, or a life-long Episcopalian, Church of the Nativity aims to meet your needs for education and spiritual formation.
The variety of educational programs offered is broad, ranging from lectures and group study of books about social, political and religious issues, to films, arts and Outreach presentations. Discussion can be lively and we seek to raise questions, rather than provide pat answers.  We tap the cultural and intellectual diversity of the Triangle by inviting guest speakers and we have received national grants to hold forums about the intersections of faith and science.  Although much of adult education is offered on Sunday mornings, there are small groups, book groups, and other special offerings at other times as well.
The goal of all of these efforts is  to inform us about programs and issues important to our understanding of the Christian life.
Upcoming Adult Formation Programs
The classes and courses include in a Lectionary Discussion Group, a book study of A Praying Life, Reading Biblical Literature, and  Science and Religion.
Sunday mornings:
10:15 am — Reflections on the Lectionary Readings, meets in the parlor. Join us for a discussion of Sunday's scripture readings using the bulletin reflection questions.
9 and 10:15 am — Reading Biblical Literature: from Genesis to Revelations. Not a traditional Bible study course but an exciting and dramatic presentation of the Old and New Testaments.
10:15 am —  A Praying Life: Connecting with God in a Distracting World book study

A Praying Life: Connecting with God in a Distracting World

This book by Paul Miller will challenge each of us to explore the way we pray and communicate with God.  Miller has a way of "making it real" by bringing the reader into his life with examples found in his own family. He shows that prayer is a constant conversation with a loving God who is really interested in all the details of His children's lives. Miller "pulls back the curtain" and shows us examples of when and how he has relied upon this conversation at various times in his life.
The group will be led by a number facilitators including: the Rev. Stephanie Allen, the Rev. David Lynch, Jane Vella, Karen Ridout, Will Gilmore, and Carl Terry
Reading Biblical Literature
(9 and 10:15am, until October 29, meets in Corlett Hall)

This video course is facilitated by George Douglas and is a continuation of last year's course, with seven video lectures and discussions about the Book of Acts, the Letters of Paul and other Epistles, and the Book of Revelation.
As always, each video lecture will be followed by group discussion and stands on its own. It is not necessary to have attended any of them last year in order to enjoy these individual sessions.
Science and Religion
(9 and 10:15am, from November 5 through the first quarter of 2018)

This video lecture (12 sessions) will be delivered by Professor Lawrence M. Principe, PhD, from Johns Hopkins University, and will be followed by a live discussion. These two crucial forces, science and religion, have helped shape Western civilization and continue to interact in our daily lives. What is the nature of their relationship? When do they conflict, and how do they influence each other in pursuit of knowledge and truth?  Led by George Douglas.
Blue Candle Scripture Study Group
BLUE CANDLE meets at Jane Vella's home every Monday evening from 7 – 9 to pray over one chapter of Scripture. This year we are doing the Hebrew Bible (Old Testament). We read the chapter aloud, and use Bishop Curry's questions as a guide to our dialogue:
What word or phrase struck you in this chapter?
What reminds you of the New Testament?
What is GOD saying to you?"
What is GOD inviting us to do?
We are in our eleventh year of Blue Candle. You are welcome to join us who pray and talk and laugh a lot in what Stephanie has called our 'worshiping together"! Please contact Jane Vella at janekvella@gmail.com, if you would like to join this group.
We also offer Education for Ministry (EfM), the premier adult education program in the Episcopal Church. EfM is a four-year theological education program of the School of Theology of the University of the South in Sewanee, Tennessee. Participants commit one year at a time to meet regularly in seminars led by trained mentors. During the four years, participants study the Bible (Old and New Testaments), church history, and theology, while learning to engage in theological reflection.