At Nativity, we seek to glorify God, to entertain and to enrich life in our greater community by offering arts events that communicate God's love for us and our love for God and one another. Spirituality in the Arts is a series of performances and exhibitions that began in 2004. It features both amateur and professional artists, musicians, and performers — some from Nativity, some from outside. Events are held at Church of the Nativity.
Everyone is invited to attend the events and admission to most events is free. If you are able to make a donation, your donation will be gratefully appreciated and will go toward the cost of producing future events. Most events are at 4 pm on Sunday. Childcare is provided.
Past Events
Tosca, Tunes and Tofu: Take Thirteen
May 21, 4 pm
Join us for this annual performance showcase by talented members and friends of Church of the Nativity. After the concert, enjoy a tofu extravaganza buffet served up savory and sweet with a bit of spice.
North Carolina Chamber Music Institute Spring Concerts
April 29, 2016, 2 pm, and April 30, 3 pm
Two afternoons of chamber music will be presented by the members of NCCMI. These young people, ages 7-18, are coached by leading musicians in the Triangle community, including members of the North Carolina Symphony. They share their music with the  community through outreach performances. Programs will feature the music of Mozart, Beethoven, Mendelssohn, and Shostakovich.
A Mother Knows Her Child
March 19, 2016, 4 pm
Author Linda Brown presents a Lenten reflection from her book of poems, "A Mother Knows Her Child." In these poems we are presented with a dimension of Mother Mary that has not been fully explored, her very human self, her strength, sacrifice and wisdom. As women come into their own in our time, they are being met with violence and resistance at every turn. The author has given us a way to see the power of the Divine Feminine and, perhaps more significantly, to take heart and to recognize and affirm the power that is within ourselves.
A Tribute to African-American Poets
February 19, 2016, 4 pm
Soprano Waltye Rasulala recites the poems of her grandmother, poet Maggie Pogue Johnson, and sings the poetic writings of Langston Hughes set to music by composers Ricky Ian Gordon, Margaret Bonds, and Jean Berger, in honor of the contribution of African-American poets to our society. Through the poems of  these two writers, a picture of life as they saw it from the late 19th to the 20th century will be revealed.
Voices of Peace
January 31, 2016, 4pm

Words and music of peace makers. Featuring the Saint Augustine's University Choir.
Two Tales from Bethlehem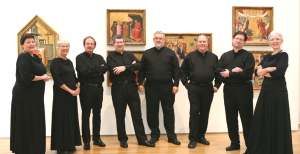 4 pm – December 7, 2014
Voce Camerata & Consort and the Nativity Players join together to present two of the Chester Mystery Plays: The Annunciation and The Play of the Shepherds. These plays tell the story of the coming of the Christ as it was told in the 13th century by English craft guilds. Originally performed in churches, the performances were moved to the marketplaces and performed on pageant carts by various guilds after the pope banned priests from acting. Travel back in time with us to see and hear this timeless story of God's gift to humanity.
Aurora Musicalis
4 pm – October 26, 2014 
Spirituality in the Arts kicks off its 11th season with North Carolina's longstanding chamber music ensemble, Aurora Musicalis (Jimmy Gilmore-clarinet, Elizabeth Beilman-cello, and John Noel-piano). They will perform the well-known and beautiful Trio in A minor, Op. 114 by Johannes Brahms, as well as a recently discovered work by Austrian composer Carl Frühling.
Requiem, by John Rutter
4 pm – March 15, 2015
The choirs of Church of the Nativity and St. Paul's, Cary perform John Rutter's Requiem. This musical setting of an adaptation of the Roman Catholic Requiem Mass by English composer John Rutter was completed in 1985. The setting  features combined choirs, soloist, and orchestral accompaniment.
An Ancient Mediterranean Meal:
Foods from the Time of Jesus
5 pm – April 26, 2015
How would you like an evening to experience a meal that Jesus would have eaten? Join us for a presentation and meal prepared by local Chef Zacki Murphy.
Advance tickets required for this event. ($12)
Tosca, Tunes, & Tofu:
Take Eleven!
4 pm – June 7, 2015
Now in its 11th year, Tosca, Tunes, and Tofu delights audiences with performances by members of Church of the Nativity and friends. After the concert enjoy a tofu
extravaganza buffet served up savory and sweet with a bit of spice.
Previous Year's Programs:
Spirituality in the Arts 2014-2015 season brochure (.pdf).
Spirituality in the Arts 2013-2014