Sunday morning service isn't the only way to pray. We live our faith by serving others. Rolling up our sleeves is one way of getting down on our knees.
Outreach at Church of the Nativity focuses on hunger and poverty, Earth care, and social justice. While some programs emphasize one or another of these foci, inevitably they merge into each other. Likewise, some initiatives support international programs, some local or regional. The environmental or Earth care initiatives remind us that little is just international or just local and that "loving our neighbor" includes caring for wherever that neighbor might live.
Some of the programs grow out of long and deep roots at Nativity, while others are brand new. Fresh ideas are always welcome, and we strive to make Outreach at Nativity as intergenerational as possible. Below are brief descriptions of current Outreach programs. Everyone is invited to share ideas with the Outreach Ministry Team the second Wednesday of every month, beginning at 7 pm in the parish hall. We urge every parishioner to find a place in one or more of these ministries.
Helping the victims of Hurricane Harvey
Episcopal Relief and Development urges prayers for communities along the Gulf Coast dealing with the impact of Hurricane Harvey. Please donate to their Response Fund and visit the organization's website for more information about relief and recovery efforts. If you would like to donate your time or expertise during the relief and recovery efforts, sign up at the "Ready to Serve" database on the site. http://www.episcopalrelief.org/hurricane-harvey-response, or you may pick up a mail-in donation form from the Narthex.
International:
 Stop Hunger Now
An international relief organization based in Raleigh, Stop Hunger Now distributes food and other life-saving aid to vulnerable children and families around the world, and works to help end world hunger. In recent years, Nativity has hosted annual meal-packing events, during which 10,000 meals are packaged in two hours. If you would like to help organize this intergenerational, parish-wide event, contact René Garces.
Haiti Fund Inc. (CODEP)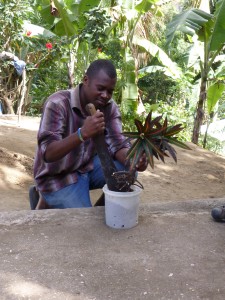 CODEP (Cooperative Development Project) is a highly successful reforestation and sustainable agriculture project in Haiti that is transforming the lives of many of its citizens. A Nativity parishioner is on the Board of Directors and visited the project in 2014. Nativity supports the organization financially, and CODEP can also use help from people who speak Creole or who have specialized skills in areas such as computers or electrical work. If interested, contact Becky Christian.
US-Uganda Orphans Education Fund
Several years ago, The Rt. Rev. Samuel Kamya, then Anglican Bishop of West Buganda in the nation of Uganda and brother of one of our parishioners, visited Church of the Nativity and called our attention to the needs of his war-torn, HIV-ridden nation, and asked that we provide funds to educate Ugandan girls who are orphaned and poor. This ministry continues as an independent 501-c3 entity, the US-Uganda Orphans Education Fund; several members of Nativity are on its Board of Directors. To learn more about this project, contact Barbara Kamya.
Environmental/Earth Care:
North Carolina Interfaith Power and Light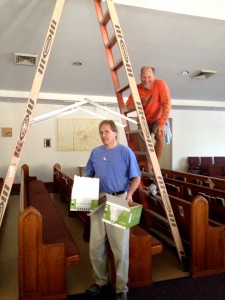 North Carolina Interfaith Power & Light (NCIPL) is a program of the NC Council of Churches. NCIPL works with faith communities to help them become faithful stewards of creation by responding to climate change through the promotion of energy conservation, energy efficiency, and renewable energy.  A Nativity parishioner is Chair of the Executive Committee. To become involved in this or other parish environmental initiatives, consider joining Nativity's Environmental Stewardship Committee and/or contact Carl Sigel.

Nativity Community Garden
Youth and adult parishioners interested in organic gardening, composting, water conservation and being good stewards of the land reconnect with the land and share Earth's bounty for those in need in our community through the Inter-Faith Food Shuttle. The garden itself is on the parking lot side of the Education Building. If you would like to participate, contact Carl Sigel.
Audubon NC
Nativity is one of Audubon NC's Bird-friendly Communities. In February 2015, the Kinder Garden Preschool installed 10 brown-headed nuthatch nesting boxes. To become involved in this or other parish environmental initiatives, consider joining Nativity's Environmental Stewardship Committee and/or contact Carl Sigel.
Regional/Local:
Inter-Faith Food Shuttle
The Inter-Faith Food Shuttle (IFFS) pioneers innovative solutions to end hunger in a seven-county area of central North Carolina. Part of the Feeding America Network, the IFFS has expanded its mission beyond emergency food provision to sustainable, local solutions to food hardships. The Rev. Jill Staton Bullard, a member of Nativity before she was ordained to the Diaconate in 2008, co-founded this organization in 1990 and serves as its Executive Director. Many members of Church of the Nativity are long-time volunteers for IFFS and can help those interested in becoming a volunteer  to find a way to help fulfill its mission.
Leesville Elementary Pride Packs
Nativity is helping to provide food for Leesville Elementary School students who are uncertain of being fed on weekends. On the first Sunday of each month, we collect at the church both food and monetary donations.  The next day, we deliver those donations to Leesville Elementary, only a few miles away.  For those who miss the first Sunday, there is a collection basket in the parish hall available to receive donations at any time. For more information, contact Cheryl Waechter. Find a shopping list here.
Leesville Elementary Tutoring/Mentoring
Parishioners at Nativity are teaming with teachers at Leesville Elementary to help pupils reach and surpass grade-level expectations. The partnership includes an "Academic Saturday," in which teachers at the various grade levels coach tutors/mentors and parents of struggling pupils on helping these children reach grade level in reading and math. If you are interested in becoming a tutor/mentor, contact Peter Crow.
Habitat Build
Saturday, March 25, is the start date for the newest Episcopal Habitat Build, when the walls will be built inside the warehouse and blessed by the Rt. Rev. Ann Hodges-Copple, then transported to the site and erected. The build, from start to finish, will take 10–12 weeks, with work being performed by volunteers Thursdays through Saturdays, with Saturday being the primary day. NO experience is necessary, just a willingness to participate, learn, and have fun. The project will be at 921 Skinner Drive, SE Raleigh.
Nativity's Outreach Committee has approved a sizeable donation to the project. Contact Chris Christiansen (jocmpc@att.net or 919-418-6670) with questions. Sign up here.
Caring Connections
Caring Connections responds as a church family to those in the job-seeking market, the unemployed or underemployed. Parishioners with job openings or people with expertise in job-seeking skills, such as interviewing or resume writing, are welcome to participate in this activity. Contact Karen Ridout.
Traveler's Basket
Nativity provides travelers' amenities such as soap and shampoo to various organizations including InterAct of Wake County, the Honduras Health Mission and the Women's Center of Wake County. Parishioners may leave these amenities in the "traveler's basket" in the lobby of Estill House. To learn more, contact Sue Young.
Support of Diocesan Institutions:
Episcopal Campus Ministry
Episcopal Campus Ministry (ECM) is an opportunity for worship, spiritual reflection, Christian education, fellowship, pastoral and peer counseling, and service opportunities for the students and faculty of North Carolina State University, Meredith College, and Peace College.  Nativity members frequently serve on the Board of Directors. For more information, contact Carl Terry.
Episcopal Housing Ministry
Episcopal Housing Ministry (EHM) develops neighborhoods of affordable, service-oriented housing for low and moderate-income families. Nativity's role is to participate in the annual Angel Tree for EHM children during Advent. To learn more, contact Jennie Herrick.
Episcopal Farmworker Ministry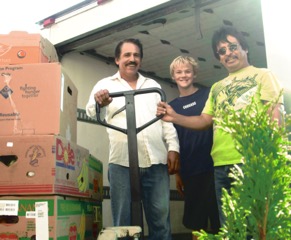 The Episcopal Farmworker Ministry has responded to the physical, emotional and spiritual needs of thousands of migrant farmworkers and their families in eastern North Carolina. Nativity has provided donations of money, clothing and food to this ministry.  A Nativity parishioner serves this ministry on Diocesan staff. To learn more, contact Patti Trainor. You may also contact Teresa Longenecker.
Penick Village
Located in Southern Pines, Penick Village is a retirement community that includes outreach as a fundamental part of its mission. Nativity takes a special collection for this ministry in May, and members of Nativity have served on its Board of Directors.
Thompson Child and Family Focus
In 1886 the Episcopal Church founded an orphanage in Charlotte. Formerly known as Thompson Children's Home, this ministry continues today at several locations in Charlotte. Thompson provides services for children who have been abused, neglected, or abandoned. Nativity contributes funds for this ministry.