Sunday morning service isn't the only way to pray. We live our faith by serving others. Rolling up our sleeves is one way of getting down on our knees.
Outreach at Church of the Nativity focuses on hunger and poverty, Earth care, and social justice. While some programs emphasize one or another of these foci, inevitably they merge into each other. Likewise, some initiatives support international programs, some local or regional. The environmental or Earth care initiatives remind us that little is just international or just local and that "loving our neighbor" includes caring for wherever that neighbor might live.
Some of the programs grow out of long and deep roots at Nativity, while others are brand new. Fresh ideas are always welcome, and we strive to make Outreach at Nativity as intergenerational as possible. Below are brief descriptions of current Outreach programs. Everyone is invited to share ideas with the Outreach Ministry Team, which meets on the second Thursday of every month beginning at 7 pm in the parish hall conference room. We urge every parishioner to find a place in one or more of these ministries.
International
Rise Against Hunger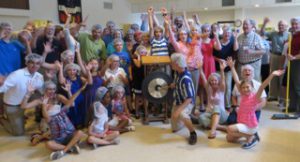 An international relief organization based in Raleigh, Rise Against Hunger (formerly Stop Hunger Now) distributes food and other life-saving aid to vulnerable children and families around the world, and works to help end world hunger. In recent years, Nativity has hosted annual meal-packing events, during which 10,000 meals are packaged in two hours. If you would like to help organize this intergenerational, parish-wide event, contact René Garces.
Haiti Reforestation Partnership (CODEP)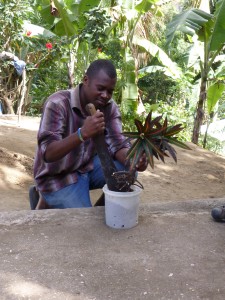 Haiti Reforestation Partnership (www.haitireforest.org) partners with  the CODEP (Comprehensive Development Project) to plant trees in the Leogane province of Haiti.  It is internationally recognized for its work over almost 30 years, with 14 million trees planted, an effort that has changed lives in several rural mountainous communities for over a generation. ​Former Nativity parishioner Jill Staton Bullard serves as Executive Director and two Nativity parishioners serve on the board; Nativity contributes financially to this organization. CODEP can ​always ​use money for tools and seedlings.  It costs $15 to plant a tree and protect it over five years until it is mature. If you are interested in learning more, contact Nativity members Becky Showalter or Becky Christian, who are on the board.

US-Uganda Orphans Education Fund

Several years ago, The Rt. Rev. Samuel Kamya, then Anglican Bishop of West Buganda in the nation of Uganda and brother of one of our parishioners, visited Church of the Nativity and called our attention to the needs of his war-torn, HIV-ridden nation, and asked that we provide funds to educate Ugandan girls who are orphaned and poor. This ministry continues as an independent 501-c3 entity, the US-Uganda Orphans Education Fund; several members of Nativity are on its Board of Directors. To learn more about this project, contact Barbara Kamya.
Environmental/Earth Care
Environmental Stewardship

Church of the Nativity has a strong commitment to promoting a healthy environment, with a range of efforts promoted by a committee called Environmental Stewardship at Nativity. Activities range from cultivating an organic community garden, to installing solar panels to power two of our buildings, to using recyclable cups and plates, to partnering with the Audubon Society to make our campus habitat friendly. Recently Church of the Nativity received a grant to promote composting in North Carolina as a means of sequestering carbon dioxide.
For a series of articles on Creation Care at Nativity, click here. Contact Carl Sigel.
North Carolina Interfaith Power & Light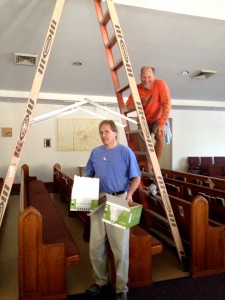 North Carolina Interfaith Power & Light (NCIPL) is a program of the NC Council of Churches. NCIPL works with faith communities to help them become faithful stewards of creation by responding to climate change through the promotion of energy conservation, energy efficiency, and renewable energy.  A Nativity parishioner is Chair of the Executive Committee. To become involved in this or other parish environmental initiatives, consider joining Nativity's Environmental Stewardship Committee and/or contact Carl Sigel.
Nativity Community Garden

Youth and adult parishioners interested in organic gardening, composting, water conservation and being good stewards of the land reconnect with the land and share Earth's bounty for those in need in our community through the Inter-Faith Food Shuttle. The garden itself is on the parking lot side of the Education Building. Participants are each assigned a raised bed, from which they share a percentage with a nearby low income housing development. If you would like to participate, contact Carl Sigel.
Audubon NC
Nativity is one of Audubon NC's Bird-friendly Communities. In February 2015, the Kinder Garden Preschool installed 10 brown-headed nuthatch nesting boxes. To become involved in this or other parish environmental initiatives, consider joining Nativity's Environmental Stewardship Committee and/or contact Carl Sigel.
 Regional/Local
Social Justice Advocacy
This group gathers monthly to discuss issues of social justice, to support those present who are impacted by discrimination, and to consider the role people of privilege might contribute, consciously or not, to that discrimination. The group also promotes events of current interest and affords opportunities for parishioners to engage in difficult conversations about discrimination, response, and reconciliation. The group formed out of particular concerns over racial conflicts of our time and quickly discovered common cause with people being discriminated against because of their faith, nationality, sexual orientation, or physical/mental challenges. Social Justice Advocacy invites and encourages participation of any parishioner or community member. For further information, contact Becky Showalter, Waltye Rasulala, or Beth Crow, or click here.
Inter-Faith Food Shuttle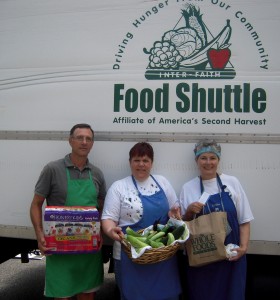 The Inter-Faith Food Shuttle (IFFS) pioneers innovative solutions to end hunger in a seven-county area of central North Carolina. Part of the Feeding America Network, the IFFS has expanded its mission beyond emergency food provision to sustainable, local solutions to food hardships. The Rev. Jill Staton Bullard, a member of Nativity before she was ordained to the Diaconate, co-founded this organization in 1990 and it has been part of Nativity's outreach ever since.  Nativity members have served on the board and many members are long-time volunteers for IFFS and can help those interested in becoming a volunteer to find a way to help fulfill its mission.
Leesville Elementary Pride Packs

Nativity is helping to provide food for Leesville Elementary School students who are uncertain of being fed on weekends. On the first Sunday of each month, we collect at the church both food and monetary donations.  The next day, we deliver those donations to Leesville Elementary, only a few miles away.  For those who miss the first Sunday, there is a collection basket in the parish hall available to receive donations at any time. For more information, contact Cheryl Waechter. Find a shopping list here.
Habitat Build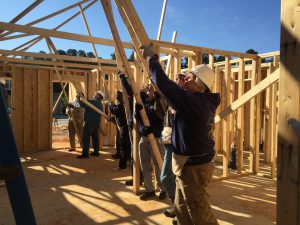 In late winter/early spring, Church of the Nativity joins other Episcopal churches and  campus ministries in our convocation to build a Habitat for Humanity house in Raleigh. There are roles for all levels of experience and construction talent. In the first two years of the program, Nativity parishioners contributed more work hours than any other participating group. Nativity's Outreach Committee has approved a sizeable donation to the project. Contact Chris Christiansen with questions. Sign up here.
Traveler's Basket

Nativity provides travelers' amenities such as soap and shampoo to various organizations including InterAct of Wake County and the Women's Center of Wake County. Parishioners may leave these amenities in the "traveler's basket" in the lobby of Estill House. To learn more, contact Sue Young.
Support of Diocesan Institutions
Episcopal Campus Ministry
Episcopal Campus Ministry (ECM) is an opportunity for worship, spiritual reflection, Christian education, fellowship, pastoral and peer counseling, and service opportunities for the students and faculty of North Carolina State University, Meredith College, and Peace College.  Nativity members frequently serve on the Board of Directors. For more information, contact Becky Showalter.
Episcopal Housing Ministry
Episcopal Housing Ministry (EHM) develops neighborhoods of affordable, service-oriented housing for low and moderate-income families. Nativity's role is to participate in the annual Angel Tree for EHM children during Advent. To learn more, contact Jennie Herrick.
Episcopal Farmworker Ministry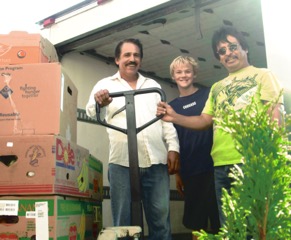 The Episcopal Farmworker Ministry has responded to the physical, emotional and spiritual needs of thousands of migrant farmworkers and their families in eastern North Carolina. Nativity has provided donations of money, clothing and food to this ministry.  A Nativity parishioner serves this ministry on Diocesan staff. To learn more, contact Patti Trainor. You may also contact Teresa Longenecker.
 Penick Village
Located in Southern Pines, Penick Village is a retirement community that includes outreach as a fundamental part of its mission. Nativity takes a special collection for this ministry in May, and members of Nativity have served on its Board of Directors.
Thompson Child and Family Focus
In 1886 the Episcopal Church founded an orphanage in Charlotte. Formerly known as Thompson Children's Home, this ministry continues today at several locations in Charlotte. Thompson provides services for children who have been abused, neglected, or abandoned. Nativity contributes funds for this ministry.
Church of the Nativity encourages parishioners to support humanitarian efforts of The Episcopal Church
Episcopal Relief and Development
Episcopal Relief and Development supports disaster relief throughout the United States and other parts of the world, and provides developmental aid in certain struggling countries. Charity Navigator gives the organization its top four-star rating for trustworthiness and effectiveness with funds raised.  You may find more information and a link for donations at http://www.episcopalrelief.org/.
Episcopal Public Policy Network
The Episcopal Public Policy Network is a grassroots network of Episcopalians across the country dedicated to carrying out the Baptismal Covenant call to "strive for justice and peace" through the active ministry of public policy advocacy.  The network is currently addressing issues such as the environment, immigration, refugee resettlement, criminal justice reform, domestic poverty, and human trafficking.